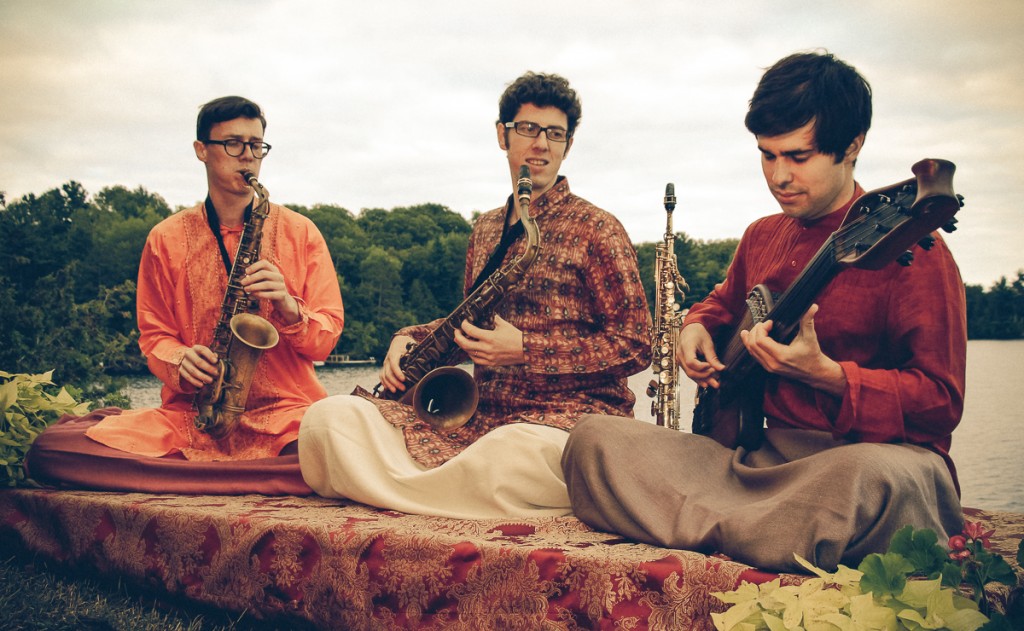 The members of The Monsoon Trio are among the first to individually and collectively study in the traditional Guru-Shishya Parampara system and perform the vocal and instrumental styles of North Indian Classical music on modern western instruments. Their journey has lead to the creation of the Bass Veena; a fretless electric bass with additional supportive strings, as well as the development of the Shrutiphone; a modified non-tempered saxophone. The Trio has also innovated extended techniques that have aided them to authentically evoke the subtler nuances of Indian Ragas.
Jonathan Kay
Tenor & Soprano Saxophones
    Emerging as one of the first to traditionally render Hindustani Raga music on Soprano & Tenor Saxophones, Jonathan has been praised by many of India's Maestros for his devotion and dedication to the tradition of Raga music and his mature realisation of the intricate expression of the Ragas.  is an experienced and versatile woodwind musician from Toronto, Canada currently living in Kolkata, India.  For the past 7 years, Jonathan has been travelling to Kolkata, India learning the instrumental and vocal styles of Indian Raga music in the traditional Guru-Shishya Parampara with his Guru Pandit Shantanu Bhattacharyya, one of India's premiere Classical vocalists.
Link: www.jonathankay.ca
Andrew Kay
Alto Saxophone
    Andrew Kay is a Saxophonist & Woodwind musician from Toronto, Canada who has developed a unique sound and approach; focused towards Indian Classical and Indo-Jazz music. For the past 7 years he has been travelling to Kolkata, India for extended periods and studying Indian Classical Music with his Guru Shantanu Bhattacharyya. Andrew has performed Indian Classical, Indo-Jazz, and Fusion music extensively throughout India alongside some of India's top maestros including; Bickram Ghosh, Tajendra Majumdar, Subhankar Banerjee, and Ronu Majumdar. Andrew has also toured throughout Canada, England, Holland, & the U.S.A., with various different ensembles. Andrew is also an avid photographer, web designer, writer, and artist.
Link: www.andrew-kay.ca
Justin Gray
Bass Veena
    Justin Gray is a rising star acoustic and electric bassist, composer and band leader from Toronto, Canada.  His main influences include Jazz, Indo-Jazz, Indian Classical and contemporary music.  Justin has been traveling to India since 2005 to study and perform Indian Classical music with his Guru Shantanu Bhattacharyya. He is learning vocally and instrumentally from his Guru and working towards being the first bassist to perform traditional Indian classical music on fretless/fretted electric bass as well as acoustic bass.  Justin has performed and recorded with many world-renowned Indian artists, including Rashid Khan, Bikram Ghosh, Subankar Banerjee, Shantanu Bhattacharyya and Chitraveena Ravikiran.
Link: www.justin-gray.com